This Is What Matt LeBlanc Stole from "Friends"
Remember a few months ago when everyone thought that David Schwimmer stole something in England? It, of course, wasn't him, but a guy who looked a lot like him. Anyways, it wasn't David we should have been worried about, it's Matt LeBlanc who plays Joey!
Matt was talking to Jimmy Fallon when told him that he stole that Magna Doodle that was on the back of Joey and Chandler's door. We have a pic of what it looked like below.
It's a good story though. He didn't sell the piece, instead, he gave it to one of the crew members on the show. The crew member was actually the one who drew all the drawings on the board that you'd see throughout the episodes.
Matt did keep something for himself, the foosball from the foosball table.
With all the money "Friends" continues to bring in, I don't think the studio cares.
Take a look: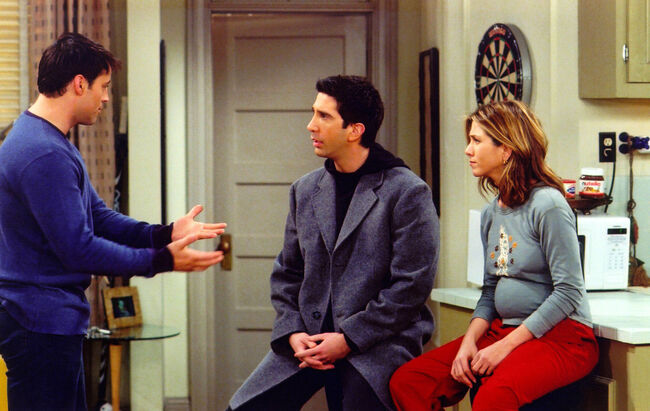 UNDATED PHOTO: Actors Matt Le Blanc (L), David Schwimmer (C) and Jennifer Aniston are shown in a scene from the NBC series 'Friends'. The series received 11 Emmy nominations, including outstanding comedy series, by the Academy of Television Arts and Sciences July 18, 2002 in Los Angeles, California. (Photo by Warner Bros. Television/Getty Images)