Pete Davidson Slams Kanye West For 'SNL' Rant on 'Weekend Update'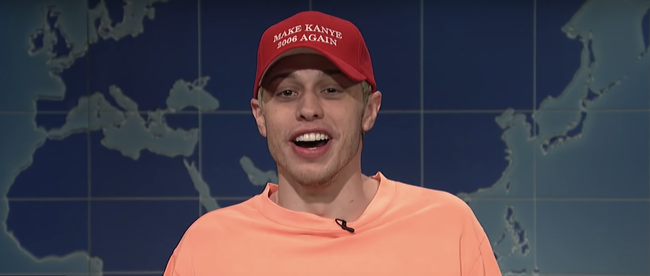 Last week, Kanye West used his Saturday Night Live platform to make some controversial pro-Trump comments while wearing his "Make America Great Again" hat. "It's so many times that I talk to a white person about this, and they say, 'How could you like Trump? He's racist.' Well if I was concerned about racism, I would have moved out of America a long time ago," he explained during his rant.
"We don't just make our decisions off of racism," he added. "I'ma break it down to you right now: If someone inspires me and I connect with them, I don't have to believe in all they policies."
A week after the unplanned stunt, SNL cast member Pete Davidson discussed the hostage-like situation during the show's "Weekend Update" segment.
"What Kanye said after we went off the air last week was one of the worst, most awkward things I've seen here, and I've seen Chevy Chase speak to an intern," the comedian said, adding that he was speaking on the matter instead of Michael Che because he's "crazy" and "we know which side of Kanye is at the wheel right now."
"Then Kanye said that Democrats broke up black families with welfare and that slavery's not real," Davidson continued. "You know how wrong about politics you need to be for like me to notice? Do you know how annoying that is? Like Kanye is a genius, but a musical genius. Like Joey Chestnut is a hot dog-eating genius, but I don't want to hear Joey Chestnut's opinions about things that aren't hot dog-related."
Outspoken about his own mental health, Davidson took issue with Yeezy proclaiming "this is the real me. I'm off the meds."
"Take 'em! There's no shame in the medicine game. I'm on them, they're great," he said. "Being mentally ill is not an excuse to act like a jackass."
He ended his monologue by asking where Ye's new album is, which was supposed to come out on September 29th. Earlier this month, Kim Kardashian West revealed Yandhi will be dropping on Black Friday.
Watch the full segment below.