Celebs Announce the Eagle's 2019 Schedule
Only 143 more days until the Eagles start their 2019 season! The Birds first game of the season is against the Washington Redskins. They'll be playing at the Linc, Sunday, September 8th at 1pm. They'll also get a Super Bowl redux with the New England Patriots on November 17th. All I can say is LET'S GO BIRDS!!!
Here's the full schedule and check out the video below!
Sunday, September 8 Washington Redskins 1:00 pm
Sunday, September 15 at Atlanta Falcons 8:20 pm
Sunday, September 22 Detroit Lions 1:00 pm
Thursday, September 26 at Green Bay Packers 8:20 pm
Sunday, October 6 New York Jets 1:00 pm
Sunday, October 13 at Minnesota Vikings 1:00 pm
Sunday, October 20 at Dallas Cowboys 8:20 pm
Sunday, October 27 at Buffalo Bills 1:00 pm
Sunday, November 3 Chicago Bears 1:00 pm
Sunday, November 10 BYE
Sunday, November 17 New England Patriots 4:25 pm
Sunday, November 24 Seattle Seahawks 8:20 pm
Sunday, December 1 at Miami Dolphins 1:00 pm
Monday, December 9 New York Giants 8:15 pm
Sunday, December 15 at Washington Redskins 1:00 pm
Sunday, December 22 Dallas Cowboys 4:25 pm
Sunday, December 29 at New York Giants 1:00 pm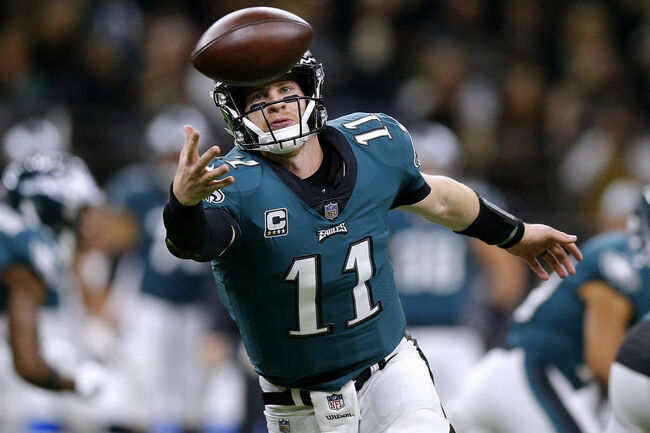 NEW ORLEANS, LOUISIANA - NOVEMBER 18: Carson Wentz #11 of the Philadelphia Eagles attempts to recover a snap during the second half against the New Orleans Saints at the Mercedes-Benz Superdome on November 18, 2018 in New Orleans, Louisiana. (Photo by Jonathan Bachman/Getty Images)