WATCH! Competitive Eater Inhales 4 Chipotle Burritos In 3 Mins!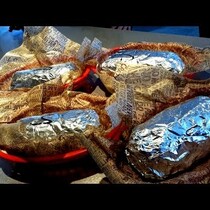 Posted February 21st, 2014 @ 8:06am
Competitive eater Matt Stonie recently completed another epic food challenge Matt Stonie Scarfed Down 4 Chipotle Burritos In 3 minutes... the 21-year-old scarfed down two chicken and two steak Chipotle burritos, then washed it all down with a Diet Coke.