I Like Big Buses And I Cannot Lie! "Christmas Jammies" Fam Strikes Again!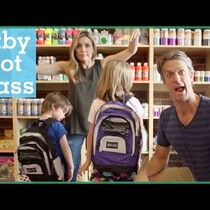 Posted August 21st, 2014 @ 9:07am
Baby Got Back? Nah, Baby Got CLASS!
Remember the HILARIOUS "Christmas Jammies" video? (watch here to refresh your memory)
Well, the family is back again! But this time with a back to school song!
Using Sir Mix-A-Lot's song "Baby Got Back," the Holderness family sings about heading back to school after a a LONG summer with their kids at home.
And it's just too great. WATCH the vid here to give yourself a laugh today :)