Actress Confirms She's Pregnant Via ALS Ice Bucket Challenge Video!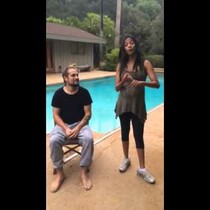 Posted August 20th, 2014 @ 9:21am
Everyone's been speculating for a while and now we know for sure: Zoe Saldana is pregnant!
She shared the news with the world in an adorable Ice Bucket Challenge video featuring her husband, Marco Perego.
Congrats to Zoe and Marco, we can't wait to see what's bound to be a gorgeous baby!!
WATCH the video below and make sure to keep donating to the ALS Association! :)